Caramel is a beige to dark-brown confectionery product made by heating any of a variety of sugars. It is used as a flavoring in puddings and desserts, as a filling in bonbons, and as a topping for ice cream, custards, and caramel corn.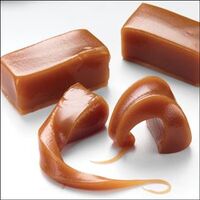 Toffee is also a form of caramel.
Some caramel candies include: Twix Milky Way Carambar
Ad blocker interference detected!
Wikia is a free-to-use site that makes money from advertising. We have a modified experience for viewers using ad blockers

Wikia is not accessible if you've made further modifications. Remove the custom ad blocker rule(s) and the page will load as expected.