Here are some of the different brands of chocolate: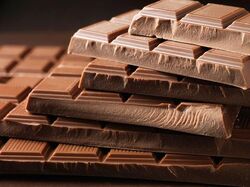 Amore Chocolate Pizza Company
Callebaut
Chocolate Chocolate Chocolate Company
Divine Chocolate
Dagoba (subsidiary of Hershey's)
Galaxy
Ghirardelli Chocolate Company
Godiva Chocolatier
Kona Kava Farm
Kraft
Lake Champlain Chocolates
Milky Way Chocolate
Neuchatel ChocolatesRapunzel Pure Organics, Inc.Scharffen Berger (subsidiary of Hershey's)Seeds of ChangeSunspireTheo Chocolate
Rapunzel Pure Organics, Inc.
Scharffen Berger (subsidiary of Hershey's)
Seeds of Change
Sunspire
Theo Chocolate
Tolberone Chocolate
Marabou
Fazer
Ad blocker interference detected!
Wikia is a free-to-use site that makes money from advertising. We have a modified experience for viewers using ad blockers

Wikia is not accessible if you've made further modifications. Remove the custom ad blocker rule(s) and the page will load as expected.