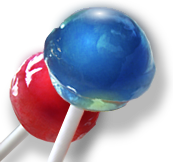 Dum-Dums are small spherical lollipops that have a total of 16 rotating flavors. They were invented in 1924 and were bought by Spangler Candy Company in 1953. Their mainframe factory is in Bryan, Ohio.
There are currently 16 flavors in Dum-Dums. They are:
Blue Raspberry
Blueberry
Bubblegum
Cotton Candy
Butterscotch
Cherry
Cream Soda
Lemon - Lime
Fruit Punch
Grape
Peach -Mango
Orange
Sour Apple
Strawberry
Root Beer
Watermelon
Retired Flavors
Edit
On the Dum Dum website, starting with Buttered Popcorn, they have "Gone on vacation". These are all the flavors that retired over the years:
Chocolate
Banana
Raspberry
Coconut-Pineapple
Black Cherry
Lime
Lemon
Buttered Popcorn*
Orange Cream
Peach
Cherry Cola
Pink Lemonade
Coconut
Tangerine
Strawberry Shortcake
Banana Split*
Mango
Dulce de Leche (Creamy Caramel)
Raspberry Lemonade
Limited Edition Flavors
Edit
Any of the retired flavors with * identify that they were brought back for a limited time. These were flavors that were available for limited time. They replaced 3 flavors in the assortment for a short time.
Mystery Mania 2015:
Buttered Popcorn
Pizza
Bacon
(Peach-Mango, Cotton Candy, and Blueberry)
Summertime Favorites 2016:
Banana Split
Strawberry Milkshake
S'mores
(Strawberry, Fruit Punch, Blueberry)