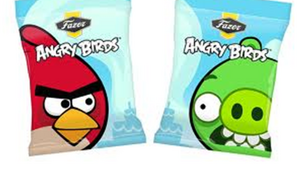 The Angry Bird shaped candy is made by Fazer. They made the Angry Birds characters with 10 flavors (pigs and birds). It is unknown if it will come to North America. But you can still buy some for a reasonable price on ebay and other marketing sites.
Red Bird - Strawberry
Pink Bird - Raspberry Wild Berries
Yellow Bird - Lime
Orange Bird - Orange
Minion Pig - Pear
Glass - Lemon
Helmet Pig - Apple
Wood - Passionfruit and Pineapple
Black Bird - Cola and Lemon Filling
Blue Bird - Wild Berries
Egg - Caramel
Ad blocker interference detected!
Wikia is a free-to-use site that makes money from advertising. We have a modified experience for viewers using ad blockers

Wikia is not accessible if you've made further modifications. Remove the custom ad blocker rule(s) and the page will load as expected.