Mentos is a brand of mints, of the "scotch mint" type, sold in many markets across the world by the Perfetti Van Melle corporation. Mentos was first produced in the Portugal during 1948. They are sold in rolls which typically contain 14 mint discs, although the new "Sour Mix" flavor contains only 11 discs per roll. Certain flavors are sold in boxes in Australia, the United States, Brazil and the United Kingdom, and the rolls are available in four packs. The slogan of Mentos is "The Freshmaker", which is referred to in the 1998 film Meet the Deedles. The typical Mentos roll is approximately 3/4-inch in diameter and weighs 38g.
In August of 2012, Mentos released a special mentos with the printed text 'I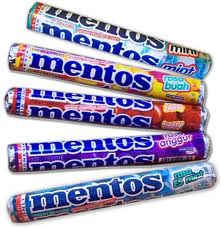 ♥ SG' that was released in Singapore for National Day. It is currently only available in Singapore (the mints inside are NOT different, they just have the 'I ❤ SG' printed on the wrapper).