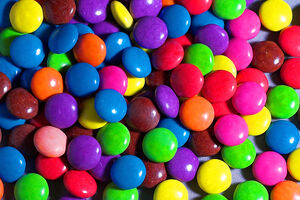 Smarties are a colour-varied sugar-coated chocolate popular primarily in
Canada
, the
United Kingdom
,
Ireland
,
Australia
,
Spain
,
Germany
,
France
,
Greece
and
South Africa
. They come in eight colours: red, orange, yellow, green, blue, violet, pink and brown, although the blue variety was temporarily replaced by a white variety in some countries, while an alternative natural colouring dye of the blue colour was being researched. Smarties are also sold in the form of chocolate bars and eggs with fragments of Smarties in them, and chocolate-and-vanilla
ice cream
with Smarties pieces in it known as Smarties Fusion.
Ad blocker interference detected!
Wikia is a free-to-use site that makes money from advertising. We have a modified experience for viewers using ad blockers

Wikia is not accessible if you've made further modifications. Remove the custom ad blocker rule(s) and the page will load as expected.