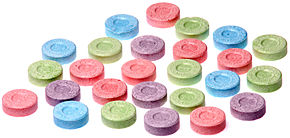 Sweet Tarts are sweet and sour candies invented by the owner of Sunline John Fish Smith in 1962. The tablets were created using the same basic recipe as the already popular Pixy Stix and Lik-M-Aid products, in response to parents' requests for a less-messy candy. In 1963, SweeTarts were introduced with the same flavors as the popular Pixy Stix: cherry, grape, lemon, lime, and orange.
Ad blocker interference detected!
Wikia is a free-to-use site that makes money from advertising. We have a modified experience for viewers using ad blockers

Wikia is not accessible if you've made further modifications. Remove the custom ad blocker rule(s) and the page will load as expected.